My Station
I'm using the following equipment:
Yaesu FTdx3000 for HF/50MHz
Inverted L – 83m
JC-4S Remote ATU
Rode NT1-A Condenser mic
DBX 166 XS Gate / Compressor / Limiter
Lexicon MX200 Dual Reverb
Edirol FA-101 interface
RSP1 with SDR-Console V3 as RX/Panadapter
Icom IC-201 all-mode for VHF
Yaesu FTM-100d mobile dual band analog/digital transceiver
Icom IC-7000 HF/VHF/UHF All Mode Transceiver for portable ops
Maas SPS-50-II Power Supply
Radioddity GD-77 & GD-77S for DMR
MMDVM_HS_dual_hat for DMR / YSF2DMR
PocketVNA Vector Network Analyzer
FTdx3000
I bought this rig as a replacement for my FT-450 AT; as it has a much better receiver and handles crowded bands (yes also FT8) much better. There's more dynamic range in the receiver, and it's less likely to overload.
So why not the omnipresent IC-7300? Because this suits me better. The RX is a tad better. Granted, no touchscreen, but I find dedicated buttons better / faster. Scope is done via RX-out (dedicated RX out and IF out with the 3000!) to an SDRPlay RSP1 (See earlier posts..). This is also one of the main reasons I chose the 3000 over the 7300: you can truly build a complex station around it. It has dedicated jacks for it.
Also there's the possibility for 2 TX antennas and 1 RX antenna. Handy.
All in all – it's a pretty recent gift to myself, so this page will probably be updated sometime in the near future.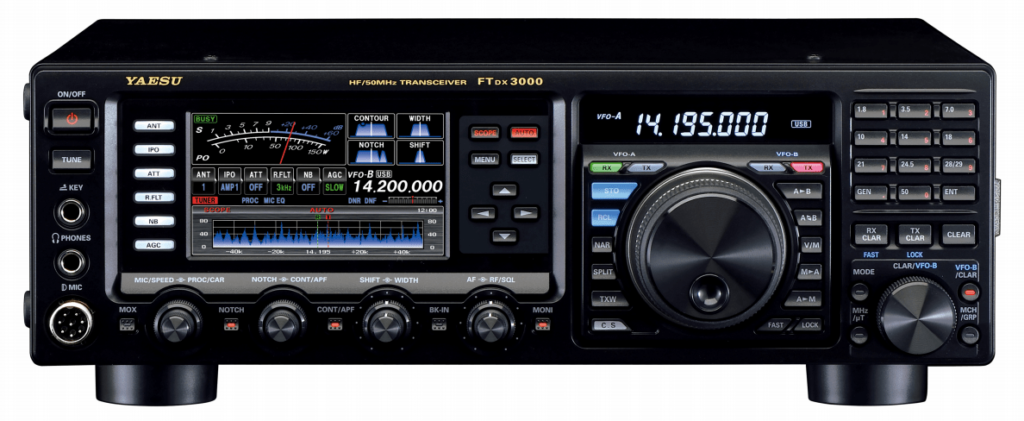 Icom IC-201
I was gifted this TRX by Yves, ON4BNC, who had no use for it anymore (many many thanks!) and it needed some fixing. Mainly the device had an issue with the squelch, needed a good cleaning and alignment.
This wasn't the easiest device to work on, but it's truly a thing of beauty. The analog VFO runs like a clock and is incredibly precise, even in an environment where the temperature does fluctuate. It's using helical resonators and can output up to 10W. Not much, but it does get the job done with a decent antenna. The unit had the built-in power supply as well. Great audio by the way! Wish I could find the additional extra VFO for it. It's a looker.
Anyway, fixing this was a tedious task due to all the cabling and the horrible PCB material. The vias used at the time by Icom were of the type "rusty nail". So I had to dig in deep, disassemble the unit entirely and replace those vias. I changed the grounding scheme as well, as in some places it was crazy, like: grounding for the FM stage had to go through the audio board first. I made sure to create a star-earth. Anyway, the problem with the squelch was purely this: bad grounding over the years.
I now have a nice looking all-mode VHF unit; and I just love the analog VFO on it… Classy!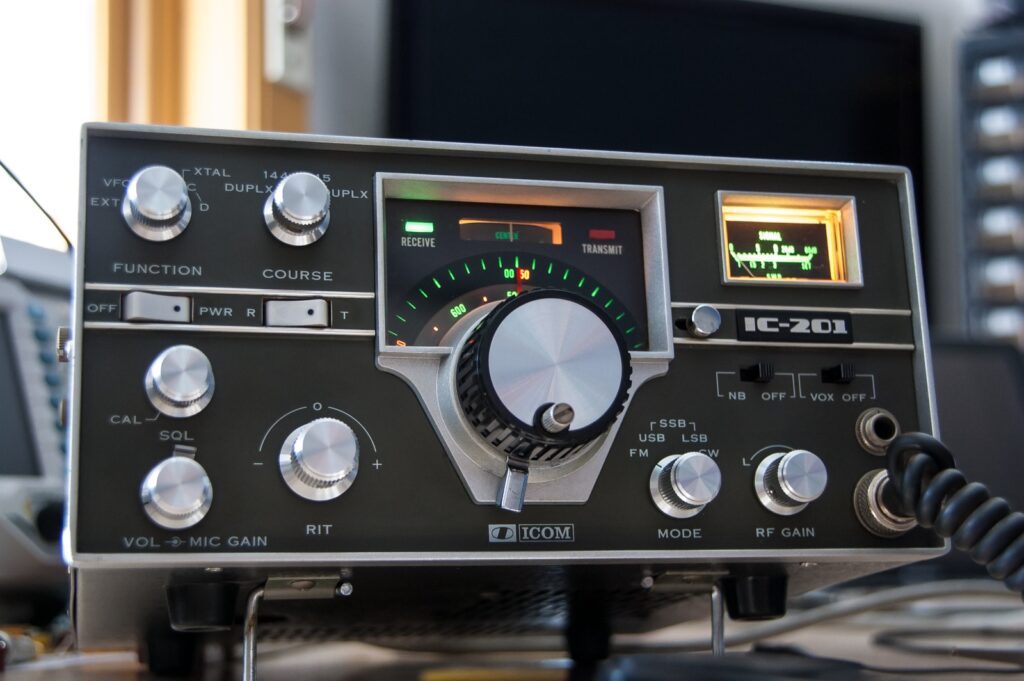 My attic shack
We've got a pretty big attic.. and it's all mine! (Ok, the XYL gave permission Hi Hi..) I have my lab on the other side, so it's quite handy when fixing transceivers or such… Or having some medium wave radio stations playing in the background. It's set-up with two LG ultra-wide monitors (clean power supplies by the way, no QRM), which makes logging / contesting / monitoring / SDR use a breeze. I'm currently using a Rode NT1-A, on an Edirol FA-101. I use the DBX 166 XS as a noise gate to make sure no background noise goes through when I briefly stop modulating, or just before I start talking. The compressor makes the signal a bit less dynamic in variation. I can move around in front of the mic, but still have the same output. Handy. The limiter makes sure I'm not overdriving my transceiver. No splatter here… The Lexicon MX200 reverb gives a bit of "air" back to my audio before entering my rig, so it all sounds natural. It may not look as luxurious as some other shacks, but to quote Han Solo: "She may not look like much, but she's got it where it counts, kid"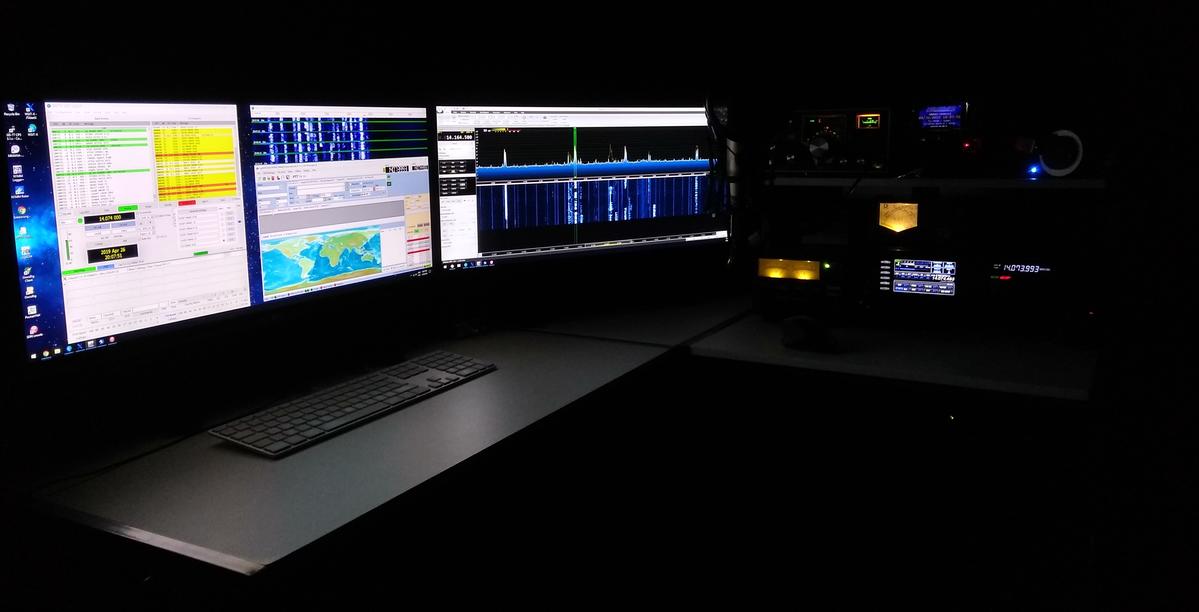 About me
I've always been interested in RF technology, and in 2017 I finally got my call (ON3AD) after being a registered SWL (ONL12316). In 2018 I had my license upgraded to full HAREC, as such, my call is now ON8AD I'm interested in.. anything! SSB / SWL / Digital modes / Antenna design / Electronics / Aerospace / … 73's and all the best!